HERBAL MEDICINE
Herbal Medicine Can Help In A Number Of Ways

Herbal Medicine Can Help With a Wide Range Of Health Issues

Whilst my VIP packages are tailored for specific health concerns,  herbal medicine can help with a wide range of chronic issues including:
Women's concerns

Stress related illness

Skin disorders

Respiratory difficulties

Digestive problems

Managing chronic illness
Working with me would give you time and space to explore your health concerns in a relaxed setting. I would enable you to develop the confidence to take responsibility for managing your own healthcare as well as providing a tailor-made healthcare plan that includes personally combined herbal medicines.
What to expect
A first consultation is a chance for us to get to know each other.
You will be asked lots of questions! These will range from detailed questions about why you have come to see a medical herbalist and any health concerns you might have, to information about your general health, lifestyle and wellbeing. If needed, and with your agreement, you will have a physical examination. We can also discuss any previous medical test results.
We will then discuss the options available for your treatment and work together to make a treatment plan that is best for you.
I aim to make herbal medicine as affordable as possible so I offer herbal medicine care packages that will allow you to spread the cost. I would ask you to sign up to either or 3 or 6 month care package depending on your health concerns. Committing to a fixed period gives us time and space to really make a difference to your health and allows us to optimise your treatment.
 How much will it cost? 
I offer a range of packages depending on your needs. As chronic illness can often take time to heal, you can spread the cost with these packages. All packages include access to me by phone or email.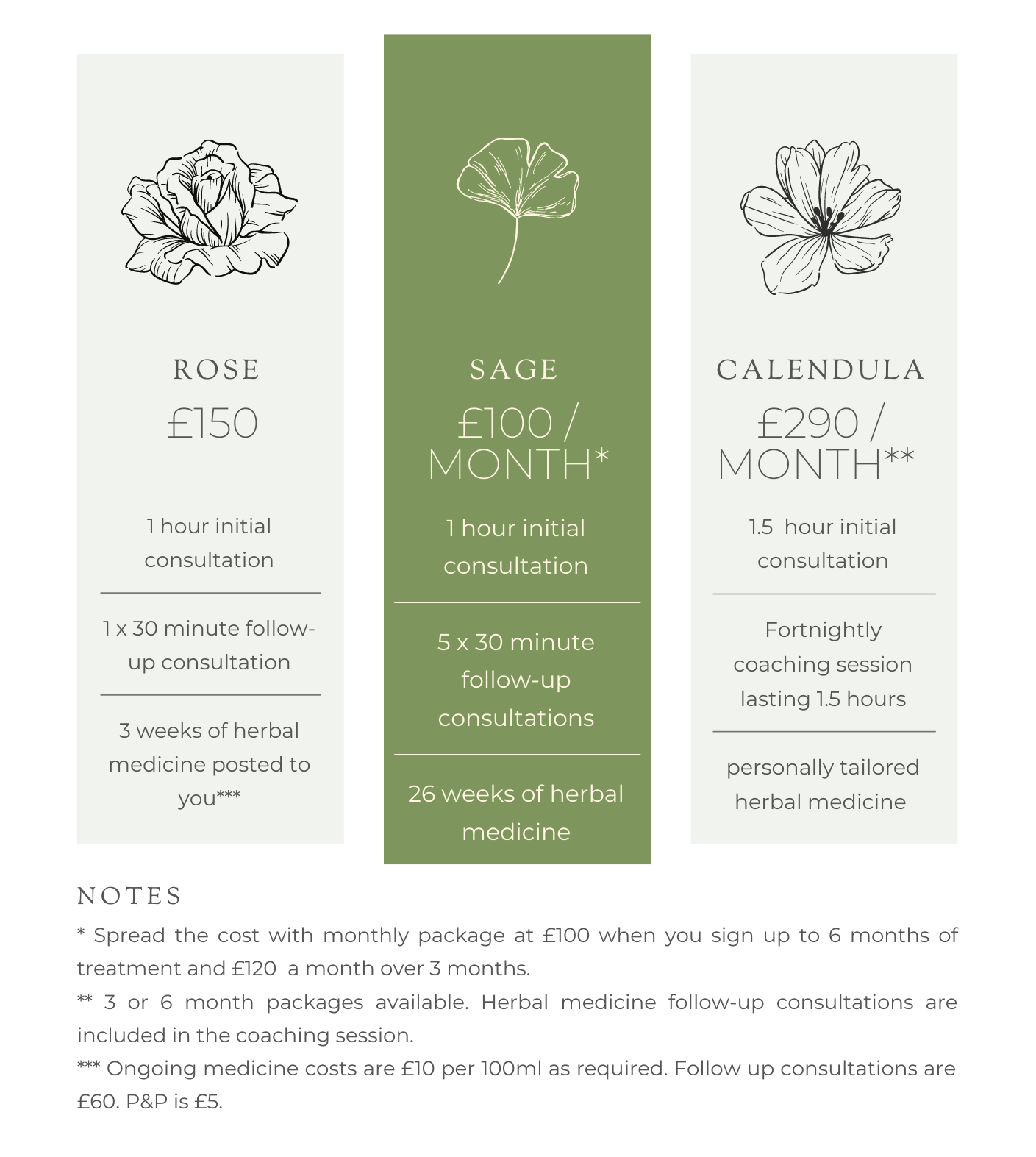 SIGN UP FOR MY WEEKLY RESEARCH ROUND-UP

I'm a huge geek and love keeping up to date with the latest research.
The Living Herb Research Round-Up is the latest health research summarised for you and delivered straight to your inbox.
We hate spam too. Unsubscribe at any time.